Inspired by a team of friends traveling with a tourist group, I have recently made the 5d/ 4n trekking tour to some of the most beautiful and remote areas in Hoa Binh province. Please find below some updates concerning this tour.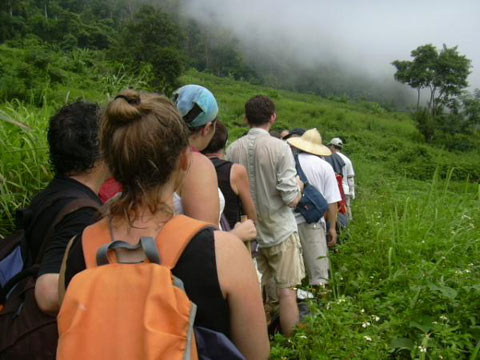 Tour summary
Routing:
A very good combination of trekking in a variety of terrains and sightseeings, from flat corn and rice fields to the sharp and rocky hills, from dusty roads to green grasslands, going through forests, streams, rivers, meeting and staying with the extremely friendly local people of different minorities including H'mong, Thai and Muong, having close looks at their daily life and getting to know their unique cultural aspects.
The hardest part of the trek is on Day 3 from Hang Kia to Cunpheo with a lot of going down on hills. As a whole, the trip can be rated as hard trek program. However, some routings between destinations can be alternated subject to weather conditions.
The whole area is remote and isolated so communication is quite difficult. The only car transfer is by Russian Uat. Mobile phone doesnot work.
Road condition from Hanoi to Mai chau is quite good with the upgraded road no. 6. From Hoa Binh, the drive takes less than 2 hours to Mai Chau
Hoa Binh hotel isnot much different, food at Hoa Binh 2 and night at Hoa Binh 1 should be good choices.
Accommodation
Simple but clean, with 2 nights staying in houses-on-stilt. Bed sheets provided anew by local travel agent – Hoa Binh tourism. The homes chosen are usually large and well-built. Toilets are simple but acceptable. Bedding includes thin mattress with bedsheet, pillow and mosquito net. No hot water
Food
Assortments for each meal out of roasted pork, fried beef, fried egg, spring rolls, bread, grilled chicken, fish. All food supplies are prepared by staff of local travel agent, arriving in advance in each spot with a Russian minivan carrying guests' luggages, bedding stuff (bed sheets and pillows only, the rest is deposited in each home), food logistics…
Breakfast: bread, jam, cheese & butter, fried egg, fruit, tea & coffee
Before each dinner, the tour guides (1 from Hanoi + 1 local guide) would sit with guests for 15 minutes and make a speech about the customs and life of the local minority. They made a funny reference to this speech as "cu'ng"
Itinerary
Day 1: HANOI – HOA BINH
Visit museum of ethonology in Hanoi
Drive from Hanoi to Hoa Binh. Arrive in Hoa Binh and check in at Hoa Binh hotel
Lunch at hotel
PM: meet the local guide. Transfer to the pier for a cruise on Hoa Binh lake which takes 30 minutes before disembarking on a village of Muong minority called Voi. Start trekking through the village then onto the hill along the river, ending the walk at the hotel. The total time of today's trek is 3 hours
Dinner at hotel followed by a minority folk music performance
Recommended program for Hoa Binh – Mai Chau -Ninh Binh – Halong in 4 days
Day 1: Hanoi – Chua Thay – Hoa Binh
PM: cruise and trek to village in Hoa Binh lake, ending trek at hotel
Day 2: Hoa Binh – Mai chau – bicyle tour to Van Mai which is more than 12 km from Lac village. Night at Lac village
Day 3: Mai chau – Ninh Binh/boat trip – Hai Phong
Day 4: Hai Phong – Halong/boat trip – Hanoi
Day 2: HOA BINH – XA LINH – HANG KIA
Transfer from Hoa Binh to the direction of Mai Chau with a stopover to visit a Saturday market called Phu Cuong. Passing Mai Chau to continue another 30 minutes on national road no. 6.
Dropoff and start the trek to Xa Linh in 90 minutes.
Lunch in Xa linh in a home of Hmong people.
Continue to Cha Day village where there are choices of easy and more difficult routes to Hang Kia. On rainy days, the more difficult one should be hazardous. We finally took the easy one, passing through streams and corn fields. We arrived at Hang kia village at 17h30. This is a village at the height of more than 1000 meters above sea level, so it is quite cool even in summer time. There is only one family in the village who can host tourists, with maximum capacity of about 30 pax. The owner, 65 and having 13 children, was former district's communist party secretary.
Dinner: vegetable soup, fried beef, roasted pork, bread, fried chopped shrimp, fried vegetable
Overnight at house of H'mong people
Day 3: HANG KIA – CUN PHEO
Breakfast:
AM: 4 hours of trekking through the most difficult part of the trek. Our guide fell and had a serious cut in the hand
Picnic lunch at a village of Thai people: bread, boiled egg, cumcumber, roasted chicken & beef
PM: 2 hours trek before getting to Cun Pheo. Stay at a village of Muong minority. This is a spectacular village surrounded by palm gardens and bamboo
Dinner and overnight at house on stilt
Day 4: CUN PHEO – SAM KHOE
Breakfast
3 hours trek in the morning brings us to Sam Khoe where we stay at a Thai village
Lunch
PM: 2 hours bonus trek to see the nearby garden and terraced rice fields
Dinner with a jar of Can wine. The food is placed in large trays lined with banana leaves and decorated like traditional food of Thai minority
Overnight at house on stilt
Day 5: SAM KHOE – MAI CHAU – HANOI
Breakfast
1.5 hours trek to reach an inter-district road where we meet our bus (should be 16-35 seater) to pick us up and drive to Hoa Binh town via Mai Chau.
Lunch at Hoa Binh hotel
Continue drive and dropoff in Hanoi in the afternoon