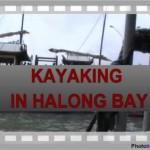 There is no better way to explore Halong bay than doing a kayaking trip which makes the visit a totally different one. With a kayak, you can easily enter the caves placed very low above the water, leading to the lagoons inside, while there is no way doing that with normal tourist boat. But, there are times you need to stretch your body lying on the kayak in order not to bang your head to the rocky stalactites.
If you are not sure with the local tide schedule, then ask a local guide to accompany since sometimes it is quite easy to go into a lagoon but very difficult to get out of it because the water has risen and closed the entrance unless you want to visit and stay in a lagoon for one day without interaction with the outside world.
In Halong Bay there are different caves to do kayaking such as Bat cave, Dark cave, Hanh cave… You can certainly do the kayaking in the open water as well, doing some kind of rowing contest with your buddies, for example. This video will show a kayak trip to Bat cave and Dark cave and a tour at night to catch fish. We later enjoyed our catch including a variety of fish and crabs on the roof of our boat.
Rowing a kayak is easy but to ride it smoothly, particularly sharing it with a partner, needs some practice. In Halong bay, with a kayak, chances are to see more of the world heritage's natural beauty including the intact rocky caves, greeny and quiet lagoons with corals and wildlife like monkeys and birds.
This video was made in May 2006 during my trip to Halong Bay sleeping overnight on the Ginger junk
Enjoy!