Rock climbing has been very popular around the world but has only begun to develop in Vietnam. It was a great chance for me during a recent trip in Cat Ba island to join with a group of climbers of multiple nationalities, with most of them being expats living in Hanoi. We spent 2 days and 1 night together on a junk tailed by a number of kayaks, cruising around Lan Ha bay and Halong bay, discovering the climbing routes which had already been established by other climbers and also looking for new cliffs in order to form new routes in this area consisting of thousands of rocky islets.
Cat Ba and Halong are very potential for deep water soloing and rope climbs. Water soloing is a form of rock climbing where the base of the rock is immersed in deep water which is dependent much on the tides. The water is there to cushion any fall whether intentional or otherwise. Rope climbing is usually practiced with a cliff on a beach or a valley on Cat Ba island called Butterfly valley, with a normal height of 30 meters. This activity requires at least 2 persons with one being the climber and the other a belayer. The job of the belayer is to control the rope that is attached to bodies of them as protection for the climber and his or her landing after reaching the climb target.
My first experience with this rock climbing was full of sensations including acrophobia (fear of the height when looking down), strange feeling like a lizard clipping itself into a wall, fully weary with my whole body, terribly focusing on my fingers, legs and belly tensions. For experienced climbers, this activity, on the opposite, is a moment of relaxation and sport enjoyment. After reaching the top of the 30 meters cliff, of course, the feeling was happiness and the reward of the rope landing. For me, I was doing a top-rope climb and reached the top after one failure.
Rock climbs are classified into numerous levels with ages of climbers varying from 9 to 80 depending on which difficulty one can do. I found this sport very interesting because to succeed with it, one must always score a balance both physically and mentally and there are always different challenges for you to try. The game also helps to build one's self-confidence and determination.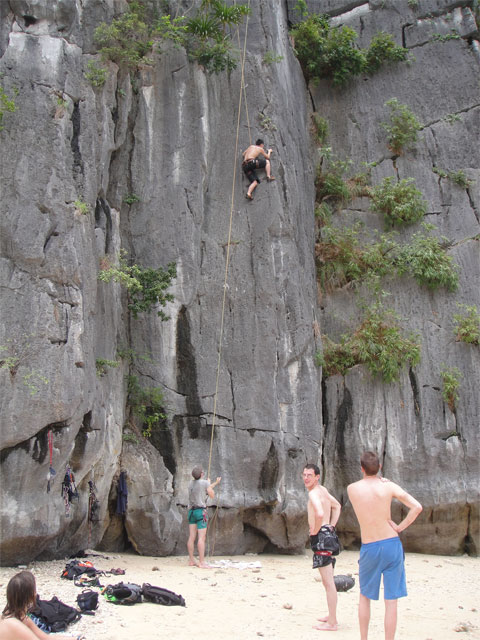 Jimmy Vu
May 2010